Healthy, Shiny & Fizz Free Hair | Client Diaries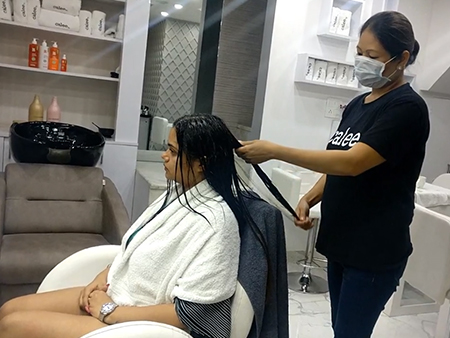 All of us are struggling to get the perfect lock of tress by avoiding chemicals. Recently one of our favorite clients, Prianca Saraswat penned down her experience and shared with us! Clinic Calee – Best Skin Clinic in Noida, also offers services like permanent laser hair reduction & weight loss which are minimally invasive & non-surgical.
Lately, I was struggling with hair fall. The scalp was a bit too oily because of which I had to shampoo almost every day. So, decided to consult the experts at Clinic Calee. The consultant at Clinic Calee suggested me to experience Root Regen therapy. This therapy promotes hair growth, stops hair fall and cures hair scalp.
Sometimes, hair needs something extra to stay strong, shiny & healthy. The technician started off by applying essential oil to my roots. She massaged it gently into the scalp. The aroma of this oil helped me relax. Oil massages nourish & stimulate the scalp. It is also believed that essential oils increase cellular metabolism that stimulates hair growth.
Post a good 25-minute head massage, the therapist washed off my hair with the treatment shampoo. After, towel drying she applied a concentrate to the roots and gently massaged. Following the concentrate; a thick cream was generously applied to the length of my hair. The concentrate and cream mask was made to rest for 25 minutes before shampooing.
Here are my observations, after experiencing Clinic Calee Root Regen Therapy:
1. My scalp is not oily and also, it's not too dry.
2. Hair feels soft and light.
3. Fizz free hair.
4. No sign of dandruff even after 18 days of the treatment.
5. Less hair fall.
6. Ends of the hair are straight and soft, no split ends.
7. The roots are stronger less brittle.
I guess the therapeutic concentrate that was applied to the roots did some magic. I can feel my hair have become softer & more manageable. This treatment really controlled my hair fall. Thanks, Calee for an amazing experience.
We at Clinic Calee, the Best Skin Specialists in India, aim to provide a holistic treatment. As far as Calee Root Regen Therapy is concerned anyone, who is facing hair issues like hair fall, dandruff, hair dryness or fizziness can come in for the treatment and notice the change. Also, if hair fall is extensive then it is advised to take mesotherapy which is supported by root regen treatment.